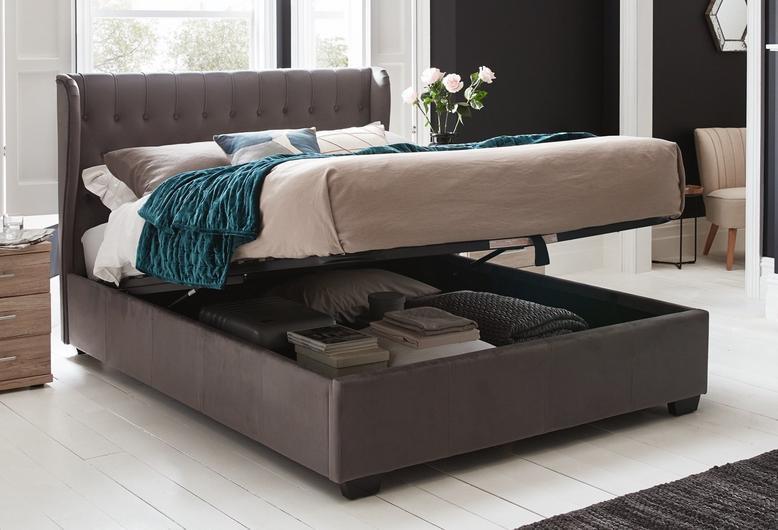 When it comes to finding a bed that can offer you as much storage as it does comfort, Ottoman beds are the number one choice. Not only can they afford you all the comfort of a conventional bed frame, but they come with under-mattress storage for bedding, luggage, toys, towels, and anything else you need. An Ottoman bed can help to provide you with the additional storage you need and keep your bedroom floor as clear as it needs to be. With spacious opportunities, individuality and custom options, and a bed that you can rely on, it's no wonder that so many Brits are now searching for Ottoman beds when they're looking for a new frame. But what about finding a good quality Ottoman bed that's also affordable? It's true that some Ottoman beds can be more expensive than others and the general cost can vary wildly. That's why we've put together this article explaining how you can find Ottoman beds without costing the earth. We've included helpful insights into how much Ottoman beds cost, what affects their price, how to know if you can trust an affordable retailer, and why finding the perfect Ottoman bed now will save you money in the future.
How Much Do Ottoman Beds Cost?
In the UK, the standard amount that you can expect an Ottoman bed to cost varies anywhere between £300 and £3,000. However, some can be as low as just over £100 Pricings for Ottoman beds in the UK can be different across retailers and we always recommend comparing your Ottoman beds across different supplier sites for price comparison.
What Affects The Price Of An Ottoman Bed?
There are many different variables that can affect the price of your Ottoman bed. This can range from your specifications (the size of the bed and the materials used) to the quality and features it comes with (multimedia facilities, genuine oak or hardwood), to the opening hinge method (from the bottom or from the side, gas lift pistons), to your chosen retailer. One of the best ways to ensure you always find the most affordable Ottoman bed that suits your lifestyle is to write down what you want from your Ottoman bed first so that you can filter out costlier and unnecessary options.
How To Trust An Affordable Ottoman Bed Retailer
First, always ensure that you check the reviews of any online or in-store Ottoman bed retailer or supplier. You can do this by checking their Testimonials website page, searching for their name on Trustpilot sites, or by asking in-store for a referral to their customer service team to discuss their past performance. Secondly, it is always worth comparing the bed that you are considering from one retailer to one from another retailer. See what additional services both offer to determine if you can find a better deal elsewhere. Ask them about their price match guarantee, their warranty options, and their delivery standards.
Why Finding The Right Bed Now Is Vital To Avoid Costs Down The Line
Rather than ending up with a cheap Ottoman bed that gives you a poor night's sleep, bad back, and limited storage, find your perfect bed now and consider paying a bit more. The importance of finding a good Ottoman bed is that cheaper and poorer options can break, prove faulty, or need replacing much sooner than slightly more expensive good-quality Ottoman beds. Finding Ottoman beds without costing the earth has never been easier. Follow our exhaustive guide to ensure that you always find the perfect Ottoman bed for you and only ever pay the price it's due.